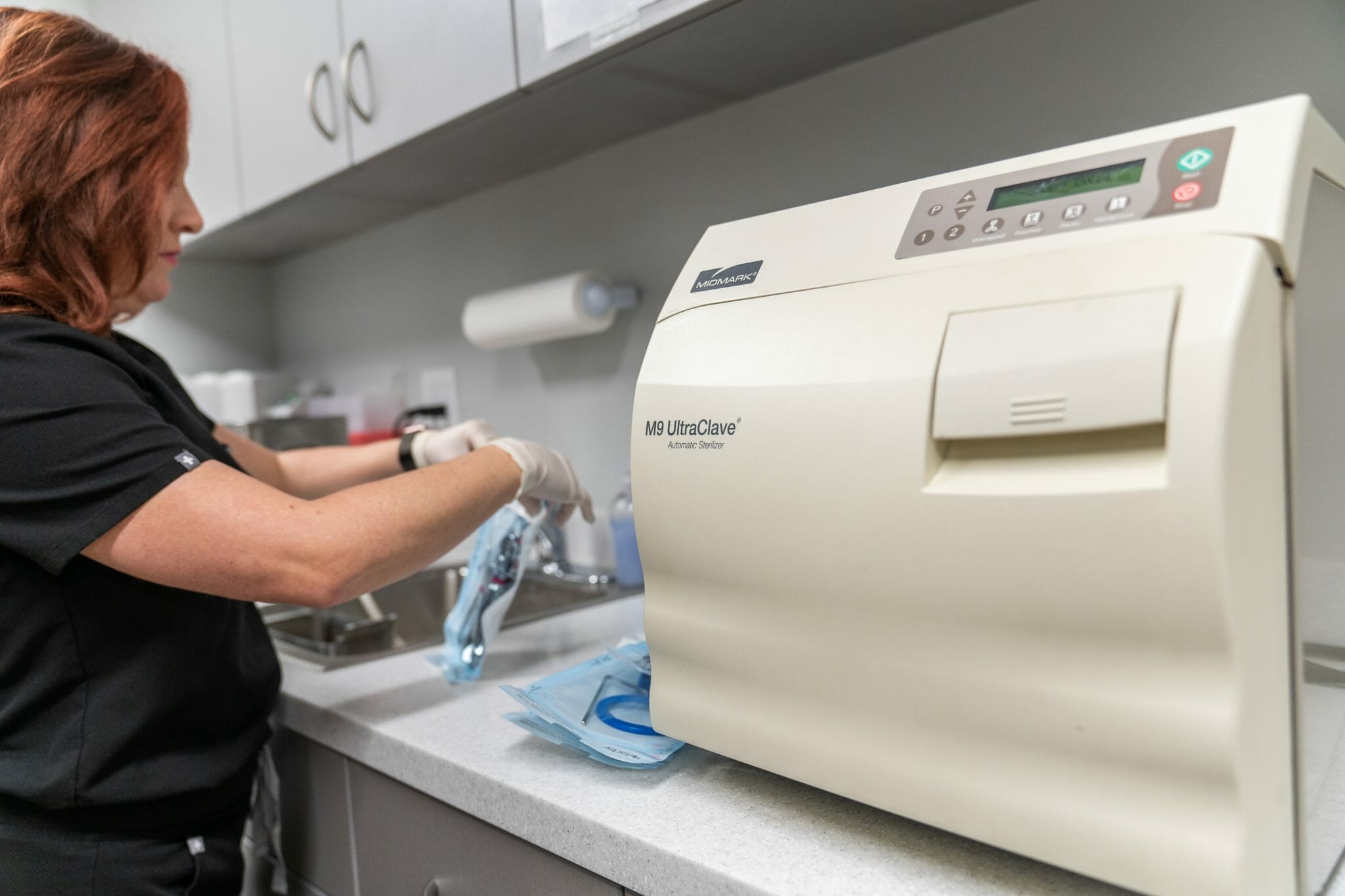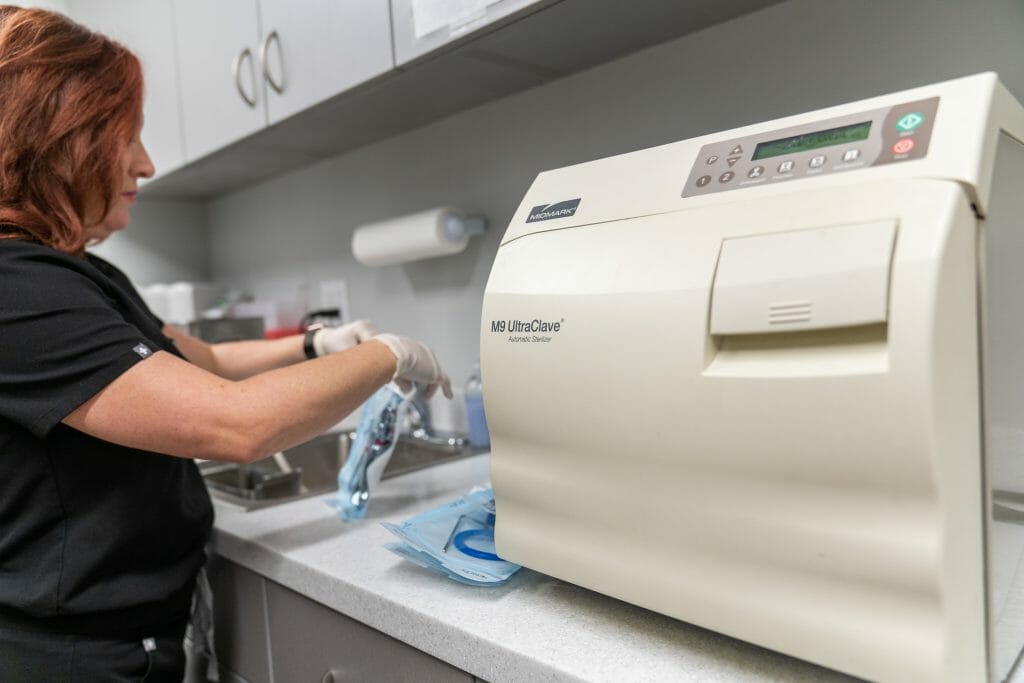 We are committed to providing continuous, compassionate, courteous service to all of our patients. Our staff listens to your concerns, evaluates your condition, and informs you of your treatment options and costs, to create an individualized treatment plan that fits your needs and your budget. In addition to providing the best dental care available, our number one priority is infection control in dentistry for the health and safety of our clients and staff.
Our staff maintains a modern, well-maintained facility and use only high quality, sterile instruments, and materials. We ask your patience as we follow the recommendations of the American Dental Association (ADA) as well as the Center for Disease Control and Prevention (CDC) and Occupational Safety and Health Administration (OSHA) protocols for dental sterilization, infection control dental hygiene, injury prevention, and social distancing. All employers are required by the OSHA to:
Provide proper personal protective equipment to employees.Each member of our dental staff is required to wear gloves, gowns, scrubs, or lab coats, medical-grade face shields or facemasks, and eye protection. When necessary, they may additionally wear a surgical facemask and a ventilation device. Each dentist and dental technician takes every precaution to wash hands thoroughly, put on a new pair of gloves between every patient to provide infection control in dental office.
Provide a safe workplaceInfection control in the dental clinic, restrooms, and public areas is accomplished by following the CDC dental infection control procedures for thorough cleaning and disinfecting of all environmental surfaces with EPA-approved disinfectant cleaning products. After each patient, the dental technician disinfects dental chairs and surfaces in the dental room and provides sterilization of dental instruments.As per recommended dental sterilization procedures, all dental instruments and small devices are cleaned in dental sterilization equipment such as an FDA approved dental autoclave sterilizer. The dental autoclave uses steam, heat, and pressure to kill bacteria and viruses.Disposable dental items such as needles and syringes, cups, brushes, polishing discs or points, trays, etc. are rinsed and placed in a separate containment vessel that is properly sealed and labeled for waste transport to maintain infection control in dental office.
Protect from workplace hazardsInjuries from accidental blood exposure from a sharp (needle stick, bur, or other sharp objects) could expose an employee to a blood-borne virus or transmit it to a patient. To keep our patients and staff safe from this hazard, we make sure our dental staff are trained in the best techniques for the prevention of sharps injuries, and proper transport and disposal of sharps. Whenever possible, we remove the hazard by using needles, scalpels, etc. with sheaths or recapping devices and separate transportation and disposal containers.
The CDC states that social distancing is an effective way of protecting against the spread of the COVID-19 virus. For the safety of all, we ask our patients to:
Reschedule your appointment if you are ill.
Please wear a facemask.
Please allow our dental staff to take your temperature and answer their questions to screen for medical risk.
Please ask guests to wait outside. We restrict entry to the dental office to patients and staff only.
Be patient with our scheduling staff as we are limiting the number of people in the dental office at the same time as per government guidelines.
We appreciate your business. We are available to answer inquiries about our practice, services, and procedures. Call today to schedule an appointment.